Recovering from Post-COVID-19 Workplace Mayhem
With all of the uncertainty surrounding the COVID-19 pandemic, companies have been forced to shift their business models to reflect it. Marketing & sales teams have altered messaging to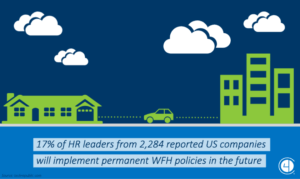 emphasize the health and safety benefits of their business offerings, employees have moved their office desks to their kitchen tables and Zoom conference calls are the new all-hands meetings.
According to an article by TechRepublic, a recent survey found that, because of COVID-19, 17% of businesses are planning to implement a permanent work-from-home policy in the future.
So, with all of this focus on the pandemic and a future in which work-from-home life is our new normal, what can businesses do to strategically create a path forward — and out of this current lull we've all found ourselves in? How will your company emerge from COVID-19?  "Shelter-in-Place" has forever changed the way we do business.  With companies shifting from physical to virtual workspaces, Foresee is uniquely positioned to help them adapt.
Organizations conducting project-based work will need to commit to virtual teams using cloud-based workflow technology to perform work collaboratively.  The sooner they are able to shift their work practices, the more secure they will be in the future.
The first step in evaluating the efficacy of a workflow application is for business leaders to realign their priorities with a clear focus on the future of the company. Looking to the past to evaluate what has and has not worked can reveal important lessons that were learned along the way, and what pieces of the business can be improved on. It's important to bring in different stakeholders during this evaluation to understand the full scope of recent workplace activity and a true sense of observation at all angles.
Creating focus around the people will also be crucial for success moving forward, because, after all, a business truly starts at its source — with its employees. So, what can leaders do to maximize their teams in a post-COVID-19 world? It's imperative that these 5 key elements are well-thought-out and implemented for all employees, from C-suite down to entry-level:
1) All-Levels Open Communication
The beauty of remote work in the cloud is that there are a variety of methods in which teams can communicate. Collaboration is key to success within any business, and it should be made as easy as possible for teams to do so. To start, chat systems including Skype, Slack, Facebook Workplace Chat, Microsoft Teams, and more can help to ensure that each employee has direct access to their team members whenever necessary. Daily check-ins between team members and direct reports can also be conducive to maximizing productivity in the (remote) workplace.
Due to the fact that employees are now essentially working alone, they should never have an empty task list or be left wondering what to do while on company time. Implementing and utilizing a robust project management system internally is critical for any business that prioritizes collaboration and strategy. For more complex, project-based work, a configurable, structured workflow platform, such as Oracle Unifier, ensures alignment between various silos of information and integrates disparate functional departments in the organization. With expert advice from a Foresee consultant, an implementation strategy can be made easy for businesses of any industry.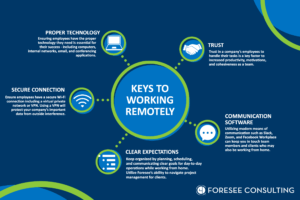 2) Trust Between Teams
Company foundations are built upon trust. We hear this phrase all the time — on company retreats, at symposiums, plastered across the office walls, etc. And while it may seem cheesy, the phrase really does reign true! Synergy between team members cannot thrive without full transparency and trust between employees at all levels. This statement is heightened even more in the remote workplace.
Additionally, trust cannot be fulfilled without proper organization in place. Oftentimes, businesses will find themselves stuck in the same cycle of trying to patch up old habits and foster change, only to fail just months later. This is where Foresee comes in. Our lifetime of experience has led us to become experts in creating successful organizational shifts for clients across an array of industries. Our consultants work with you to come up with a plan of action that will operate to solidify trust in all corners of the business.
3) Secure Connection for All Employees
We've all heard the horror stories: Company data systems getting hacked, causing massive delays in productivity, ultimately ending in heavy profit loss — and this can happen to organizations of any size. Now more than ever, with the majority of (if not all) work being facilitated through the cloud, remote workers must be equipped with a credible VPN, or virtual private network on their work devices. This will help to reduce the chance of company data being corrupted.
4) Proper Technology and Security
In addition to a secure VPN, it's important for remote employees to have access to an adequate Wi-Fi network. If team members have a slow connection, they'll become frustrated and productivity will decrease — causing project delays and a low morale.
5) A Clear Understanding of What Is Expected
Most importantly, team members should always understand what is expected of them throughout their day-to-day. Having those daily check-ins and weekly progress meetings with each individual team member can prove to be beneficial for the business as a whole. However, it must be done in a way that does not pull from daily project progress.
But, how can a company improve on its process while simultaneously trying to run its day-to-day operations? With help from an outside perspective! Foresee consultants can help to navigate your business to your end goal — faster and with less overhead. We've truly seen it all — the good, the bad, and the ugly — and have learned to maneuver out of virtually any business situation, driving our clients to success.
To learn more about our full scope of services and the industries we serve, click here!