Why This Is Prime Time For Oracle Training
Crushing It During COVID-19:
You probably know the old saying: "when life gives you lemons, make lemonade." So, what if life hands you a global pandemic? What could you do to help your business maneuver this strange new world?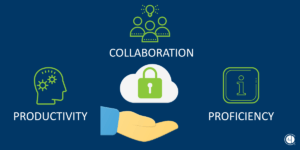 One thing every great business needs is a well-trained staff. Successful businesses also need proficient organizational skills, especially those related to the cloud. What's an easy way to achieve both of these goals while everyone is at home? Simple: invest in an online training course!
Luckily for you, we offer our premier Oracle Primavera Unifier courses on Zoom — a perfect option for remote workers. With our expert trainers by your (digital) side, you and your team can use this opportunity to develop invaluable skills.
Four Reasons Why Now Is The Oracle Training Opportunity
1. In A Contactless World, Cloud Is King
In a post-COVID world, learning how to navigate business without software in the cloud is not an option. It's true that many things are uncertain nowadays, but it's unlikely that digitization will slow down any time soon. Because everyone is practicing social distancing today, "contactless" systems like Oracle Primavera Unifier will become increasingly significant.
In our increasingly interconnected world, businesses need to be prepared for any eventuality. Learning how to store your essential data in software systems such as Unifier could provide security even in the most challenging of circumstances.
2. Resist The Cute Cat Video – Training Keeps Your Team Focused
Let's face it: workers are more prone to distractions — like this cute cat video — while they're at home. Heck, it's hard to keep employees off of YouTube even while they're in the office! Employers need a way to keep their workers on-task in these novel circumstances.
Online training is a fantastic way to keep your team productive while they are stuck at home. More significantly, online training will provide them with a clear goal worth striving towards.
As you probably know firsthand, it's far easier to get motivated on a project if it has a clear objective. With a sense of direction, people are far more likely to give their full attention to productive tasks. "Training objectives" are strong psychological motivators that could keep your employees and teammates focused and functioning at peak potential.
3. Supercharge Your Tech-Savvy Skills
Of course, many of us conduct a percentage of our business online anyway, but there are many ways to truly improve your tech-savvy skills. Our Unifier training not only provides a means to counter at-home distractions by each module's main goal is to empower our students with hands-on training within the Oracle Primavera Unifier system.
Even if you feel confident in your Oracle skills, you might be surprised by how much technology has evolved over the past few years. Our Unifier training courses can provide the most up-to-date training content and our highly-trained implementation consultants can provide you with expert tips on taking advantage of all things Unifier Oracle.
The whole world is on "pause" anyway, so why not use this opportunity for a "system upgrade."
4. Smells Like Team Spirit – Crank Up Co-Worker Communication
Another benefit of training courses is that they can help your team stay in touch during these challenging times. Since most of us are working at home nowadays, it's impossible to maintain the same sense of community that exists in a physical office. Online training can, however, provide employees with a unique opportunity to work collaboratively in one "space."
One of the great dangers of this "stay-at-home" world is a communication breakdown. Understandably, people become more preoccupied with their private home lives when they're not in the office. Thankfully, training courses can help keep the lines of communication open between team members during the COVID-19 pandemic.
Maximize Your Company's Potential With A 4C Course
We've helped countless businesses reach their peak Unifier potential with our course offerings Now that all of our courses are available on Zoom, there's no need to fret about social distancing. The only requirement to take part in one of our courses is to have a computer and reliable Internet access! To learn specific details about Foresee's Oracle Unifier courses, be sure to visit this link.