Building The New Economy…Literally — "Contactless Construction Administration" Post-COVID-19
Change is never comfortable, but sometimes it's unavoidable. With each passing day, it becomes increasingly clear that global business won't be the same post-coronavirus. Although this presents novel challenges to employers, it's also an unprecedented opportunity for innovation and training. As the "new economy" evolves, construction companies will need to tailor their projects to meet the demands of a "contactless" world.
In this blog, we'll explore a few features of the emerging "new economy" and explore how construction fits into these trends.
The Computer Is The Cubicle: Why "Work-From-Home" Is Here To Stay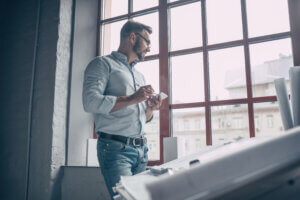 Even if we produce a vaccine for COVID-19, it's unlikely the "work-from-home" trend will change anytime soon. Believe it or not, there are now companies like Twitter that have allowed employees to work from home "indefinitely." Recent surveys also suggest most Americans are comfortable with the WFH model.
Construction industry professionals must recognize that telework and telecommuting are already the "new normal." This radical shift in how people work and communicate will change the way buildings are constructed. It will force contractors and designers to adjust how they collaborate in the organization of their project teams and administrative tasks.
It's no question that cloud services such as Oracle Unifier will become essential post-COVID-19. Many businesses that were late to the game are now investing heavily in the security cloud systems have to offer. Furthermore, recent data from the Association of General Contractors published in Forbes suggests that about 75 percent of construction companies in the US and Canada are investing heavily in collaborative online systems.
Considering that many construction projects are on pause, for the time being, it's a phenomenal opportunity to invest your time in our Oracle Primavera Unifier training. Having a firm grasp of this program will give your team a greater sense of confidence in this rapidly-changing world. Since most communication will be digitized in the future, you want everyone on your team to feel comfortable working in the cloud.
How Construction Could Build "The New Economy"  
In truth, nobody knows precisely what buildings in the "new economy" will look like. One thing we do know, however, is there will be a greater emphasis on safety.
Architects are already evaluating how they could naturally incorporate "spaciousness" into their design schemes to encourage social distancing. Many urban planners are also curious about how to accommodate the increasing number of pedestrians and bicyclists in car-centric cities.
From airports and hospitals to movie theatres and concert halls, construction companies will play a crucial role in developing pandemic-proof buildings. If you're in the construction business, you're likely going to see many ambitious new projects heading your way.
To help effectively manage in the new economy, your organization must get familiar with managing data online.
Provide Employees a Safe Work Environment With Oracle Unifier
As builders work on these innovative infrastructure projects, employers need to provide their staff with safe and sanitary workplaces. In the beginning stages, this might mean reducing the number of people on specific projects. You might also have to invest in essential supplies like hand sanitizer stations and face masks onsite.
Thankfully, it's far easier to track employee safety and respond to issues with Oracle Unifier. Not only does it help you keep tabs on your employees, but it could also keep workers focused on something meaningful while self-quarantining. As digitization becomes ever more prevalent, businesses need a way to build camaraderie and keep projects moving forward — even when in-person conferences become impossible.
Let Us Help Prepare You For Post-COVID Construction  
No matter what area of construction your business is concerned with, we're here to help you learn how to manage your workflows. Our Oracle Primavera Unifier tutorials have already helped countless business leaders successfully manage their projects in the cloud. To help maintain social distancing, we now offer our Oracle Unifier training modules via Zoom. Learn more at https://4cteam.com/training/.